Ceramic Pro ION
The new generation of surface
protection technology
Introducing
Ceramic Pro ION
The Ceramic Pro ION product line is the next step in the evolution of nanoceramic surface protection coatings. Its main feature is a combination of the time-proven superior quality of Ceramic Pro nanoceramic coatings and the usage of ION Exchange Technology that provides unmatched properties to our new product. Not only does it have all the benefits of the top-tier Ceramic Pro 9H generation, but it also surpasses it in virtually every aspect and has a quality that was considered impossible for a nanoceramic coating. Namely, it is outstanding resistance to abrasion that takes ION to a league of its own in terms of protection from wear and tear. Ceramic Pro ION is the future of surface protection that has manifested today!
In a nutshell, ION Exchange is a sophisticated chemical process that allows a significant increase in the density of a substance and activates additional properties. On a basic level, it can be described as a replacement of ions in the initial substance by larger ions from a secondary substance which reduces the free space between molecules and strengthens the chemical bond. This technology is used in the manufacturing of ultra-hard screens for modern smartphones. In other words, when applied to Ceramic Pro, it is chemical tempering of glass-like nanoceramic coating. We are proud to be the first ones in the industry to use ION Exchange Technology for the best satisfaction of our customers and advancement of the standards of surface protection to a new level!
The Products
Ceramic Pro ION surface protection system consists of two products. Both of them must be applied in the right succession to activate the ion exchange process and enjoy the maximum performance of our new technology.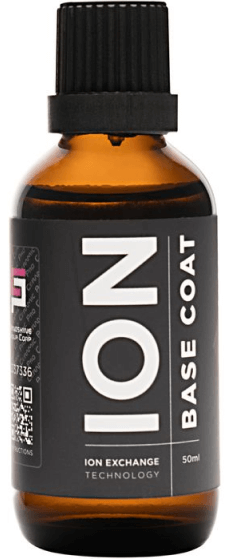 ION Base Coat
This is the first stage of the ION coating. It provides thickness to the coating, which is responsible for many protective qualities of the product such as resistance to oxidation and corrosion, resistance to abrasion, protection from UV, and so on. However, its performance is greatly reduced without the second stage. This is a permanent coating that can only be removed by intensive polishing.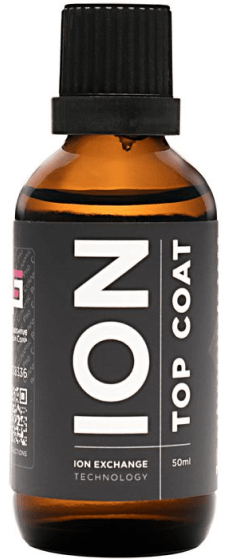 ION Top Coat
This is the second stage of the ION coating. It activates the ion exchange reaction and provides hydrophobic property which is responsible for such qualities as dirt and contaminants repelling, self-cleaning effect, improved gloss, and many others. Unlike its predecessor from the 9H generation, ION Top Coat is a full-bodied coating, which means that it has its own thickness which greatly improves its protective properties. To top it off, it features an advanced more durable, and effective molecular structure responsible for hydrophobicity.
What makes Ceramic Pro ION superior?
Thickness
Is one of the most important properties of a nanoceramic coating. The thicker it is the more powerful the protective action is. However, if it's too thick, it becomes brittle, so a balance is necessary. ION is perfectly balanced: 1 layer of ION Base equals to 2+ layers of 9H and performs correspondingly.
Abrasion resistance
This is a unique feature unavailable in previous generations of nanoceramic protective coatings. As a matter of fact, abrasive damage is the Achilles heel of such coatings. However, ION lacks this weakness, which makes it almost invincible to any type of damage.
Hydrophobicity
Is the ability of a coating to repel liquids and various contaminants that may be contained in them. Such effect is explained by the presence of specific microscopic structures on the surface that look like tiny hairs and force the drops to maintain a spheric shape, which prevents them from obtaining a grip on the surface. Unlike the "hairs" used in 9H technology, ION Top features structures that look more like tiny pyramids, which makes them substantially more durable, efficient, and long-lasting.
Hardness
Governs the ability of a coating to resist scratching and similar damage. For one object to scratch another object, it has to be harder. So, high hardness means fewer objects that can damage the coating. Ceramic Pro 9H got its name from the pencil hardness scale where 9H is the maximum. ION is harder than 9H, so, its hardness is off the chart on the pencil hardness scale.
Density
Is important for protection against chemicals and etching by contaminants. High density guarantees that there are no pores or other imperfections that may leave a way for an unwanted substance to reach the surface underneath the coating.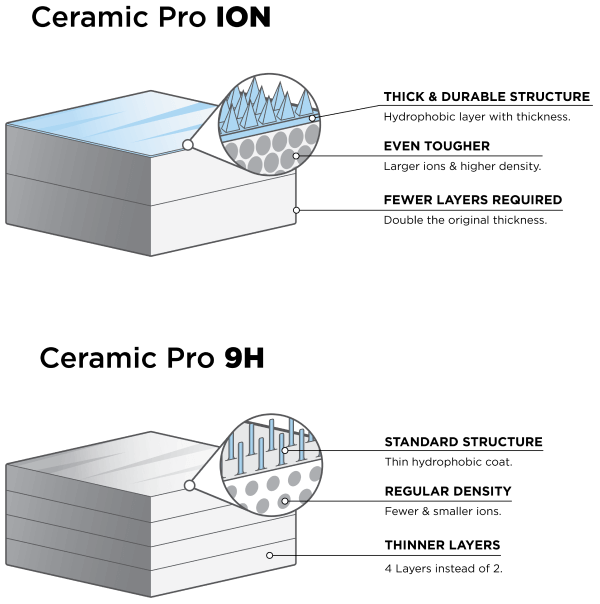 Comparison of surface
protection systems
Here is the comparison chart of the performance of ION, 9H (previous generation), and Kavaca PPF, which is another popular method of surface protection:
Properties
ION Base Coat
+
ION Top Coat
Ceramic Pro 9H
+
Ceramic Top Coat
Kavaca PPF (hard top coat glossy films)
Permanent/ temporary
Permanent, can only be removed by polishing.
Permanent, can only be removed by polishing.
Non-permanent. Can be removed anytime if required.
Wear-and-tear resistance

*****

***

***


Healing at high temperatures.
Hardness
Over 9H
9H
Non-applicable.
Chemical resistance

*****

****

****

Hydrophobicity

*****

***

****

UV-resistance

*****

****

***

Self-cleaning

*****

****

***
Every option has its benefits depending on a specific task presented, however, it is clear that Ceramic Pro ION is superior in almost every aspect both to the previous generation and the PPF technology.
Why choose
Ceramic Pro ION?
Advanced technology
ION Exchange technology makes Ceramic Pro ION one of the most technologically advanced surface protection coatings available on the market.
Flawless protection
ION has next to no weak spots. Its protection is nearly impeccable.
Extreme performance
The properties of ION are far superior to the previous generation and set up a new standard of surface protection in the industry.
Professional service
ION is available only to the best, most professional members of our network that provide only the highest level of service.
Responsible quality control
Every installer working with Ceramic Pro ION must perform quality control 7 days after installation to make sure that our customers enjoy the best performance of the product.
Certification
All Ceramic Pro products are certified by SGS.
Once again Ceramic Pro is spearheading the development of the
industry, setting up new standards of quality and performance.
We invite you to celebrate this triumph with us.
Experience the most advanced product firsthand.
Choose your car to be new
Always new, always Ceramic Pro

Find The Nearest Installation Center
Ceramic Pro ION is an amazing product that surely will make your customers happy and satisfied. And what makes it even better, ION is a system that you will enjoy working with as well thanks to the product characteristics that are important to you as a professional.
Here are the benefits
that matter to your business:
Fast application
Even though you don't have to be in a hurry, it is possible to install a layer within no longer than 20 minutes. And 10 minutes of this time will be dedicated to IR lamp drying. It means you can install an equivalent of 6 layers of 9H within 1 hour of time.
Reliability
Combining the overall quality of the products and the lack of necessity to apply many layers, which minimizes the risk of making a mistake, means that you can rest assured that both you and your customer will be satisfied.
Improved protection
Every layer of ION Base equals to 2+ layers of 9H in performance. It means you need to install less layers to provide the same or even better level of protection.
Convenient application
Unlike layering 9H, you don't need to be in a hurry when layering ION Base. Even if it fully crystalizes, you will still be able to add another layer even if it's on the next day or next week. You can work at your comfortable pace.
Prestige
ION product line will be available only to the top-tier applicators. If you work with Ceramic Pro ION, it means you are elite among the detailers.
Time-profit efficiency
You need to spend less time and effort to coat a single vehicle, which means that you could provide service to more customers and maximize your profits.
Top of the line product
Ceramic Pro ION is a product line that is superior to everything you knew before. It uses the latest advancements in technology and science.